Impressions
print
---
Matija Zagoranski, participant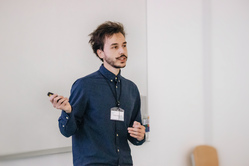 The Biological-Psychological Student Conference is a great opportunity for every enthusiastic student, to present their work, meet new people who share the same interests and to get familiar with the conference experience.
Last year's conference was in my opinion well organized, had a good atmosphere and a varied and interesting program. It was interesting to observe the variety of presentations and how each of them was unique in it's own way.
---
Hana Hanžek-Turnšek, participant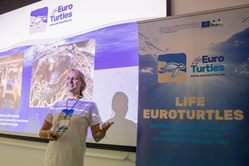 I am very happy to have attended the first biological-psychological conference, which allowed me, as a naturalist, to get acquainted with some of the social sciences. At such events, we also meet people outside our bubbles and thus build bridges between seemingly opposing disciplines ("naturalists versus social scientists").
I believe such collaborations between students of different programs are crucial for addressing current social issues and I wish there will be more interdisciplinary events in Koper. At the same time, I look forward for the next implementation of this conference.
---
Mojca Pungerčar, conference co-chair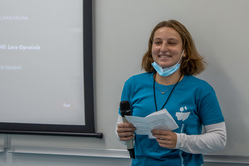 I am Mojca Pungerčar. Last year I was one of the two presidents of the student conference. I am very proud and happy that we held a student conference for the first time at the University of Primorska last year!
There is a lack of such events where students can present their research work in public, especially in their mother tongue, so it is important that we preserve this story and proudly pass it on to future generations.
---
Larisa Lara Pohorec, participant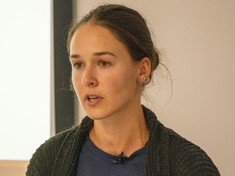 Student conferences encourage the integration of knowledge and skill, acquired during college studies. They represent a bridge from student to researcher as they bring the first taste of such responsibility. The conference offers a network of likeminded people, allowing us to broaden our horizons.
The first conference was elegantly organized and it would be my wish for it to become and stay a tradition.
---
Ines Knežević, organizer & participant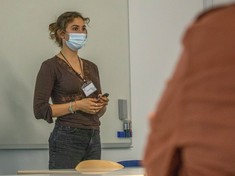 My primary role working for the conference was organization, which proved to be a big challenge for me. I had no previous experience and learned along the way which was exciting. Seeing my hard work come to life, not only that but seeing it succeed and get a positive feedback was as rewarding as can be.
As a team we felt even more connected and proud seeing the conference succeed.
Last minute i decided to join as a speaker as well as organizer, which was a big step for me, but I am proud of it and do not regret a thing. the whole experience gave me a feeling of competence and pride that I can now carry into new exciting projects.